Rudra Abhishek Pooja Trimbakeshwar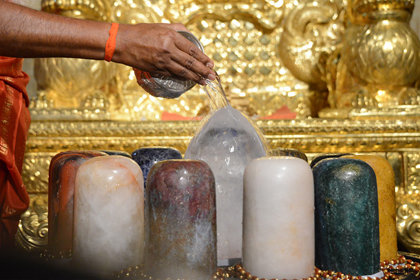 Rudra Abhishek To Lord Trimbakeshwar
Rudra Abhishek is a ritual in which Lord Trimbakeshwar offers Panchamrut Pooja with powerful hymns/mantras to satisfy all the desires of the person who performs it. This Abhisheka brings prosperity, satisfying all wishes, removing negativity, cut off negative karma, and bringing life satisfaction all around.
Milk,Curd,Ghee,Honey and Sugar are used in the Panchamrut pooja. It's done for our needs to be met, and for prosperity. It is a very special type of Puja performed at the temple by only local Trimbakeshwar Brahmins. This brings wealth, fulfillment and gives all aground happiness in life. Abhisheka is performed by Chanting the Sanskrit shlokas ('Suktas') (Rudra) verses and offering Lord Trimbakeshwar either holy leaves, holy water, honey, milk, curd (yoghurt), sugar cane juice.
Verses are pronounced loudly by priests that are written in the ancient Indian language ('San-Skrit' language pronounced as sun-s-krita). There is a belief that God uses this language for communication. Priests will typically chant in this language. The vibrations created by this chanting heal listeners' minds and give them peace of mind. Abhisheka may be done on the basis of the Name of Prayers. In order to please God, these prayers were written by ancient gods.
Rudra Abhishek
Laghu-Rudra Abhishekha
Maha-Rudra Abhishekha