Shri. Mahendra Bapuji Dharane
Upadhye of Shri Kshetra Trimbakeshwar
Shri. Nikhil Mahendra Dharane
Upadhye of Shri Kshetra Trimbakeshwar
We (Shri. Mahendra Bapuji Dharne and Nikhil Mahendra Dharane) are upadhye of Shri Kshetra Trimbakeshwar and Here we have been performing all types of poojas and dharmik vidhis for as long as 4 generations. We perform Kalsarpa Pooja, Narayan Nagbali Pooja, Tripindi Shraddha Pooja, Maharudra, Laghurudra.
We are expert in our profession. This is not just our profession, but it is our passion to help people in spiritual way, to sort out their problems, which has occurred due to Graha Doshas. And until now we have successfully healed countless people, which include many celebrities. And they are now living happier life than ever.
We also have precious facility for your stay and food during pooja kaal. We are situated right in the heart of Trimbakeshwar villege, Near Kusharvart Kund, at a walking distance of 10 minutes from bus station.
---
Adhikar Patr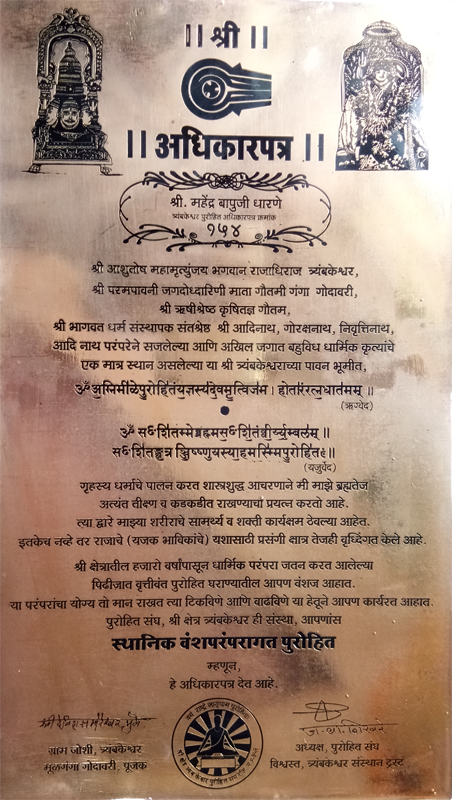 There are many unauthorized pseudo Brahmins in Trimbakeshwar. And deceive you to perform all the pooja rituals here. And make money. All devout devotees are requested to demand the official letter and official logo from whom you are going to perform pooja rituals and make any rituals.
त्रंबकेश्वर में कई अनधिकृत छद्म ब्राह्मण हैं। हम आपको सचेत करते हैं कि वो हम यहां सभी पूजा विधी करते है ये बोलकर आप के पैसे एढलेते हैं। सभी श्रद्धालुओं से अनुरोध हैं कि वे आधिकार पत्र और अधिकृत लोगो की मांग करें, जिनसे आप पूजा करने जा रहे हैं, और तभी उनसे पूजा विधी करें।
त्रंबकेश्वर येथे बरेच अनधिकृत ढोंगी ब्राम्हण आहेत. आम्ही येथील सर्व विधी करून देतो असे म्हणून फसवतात आणि पैसे घेतात. सर्व श्रद्धाळू भाविकांना विनंती आहे की, तुम्ही ज्या कोणाकडून पूजा विधी करणार असाल त्याच्या कडे अधिकृत(रजिस्टर) अधिकार पत्र आणि अधिकृत लोगो ची मागणी करा आणि पडताळूनच कोणताही विधी करावा.